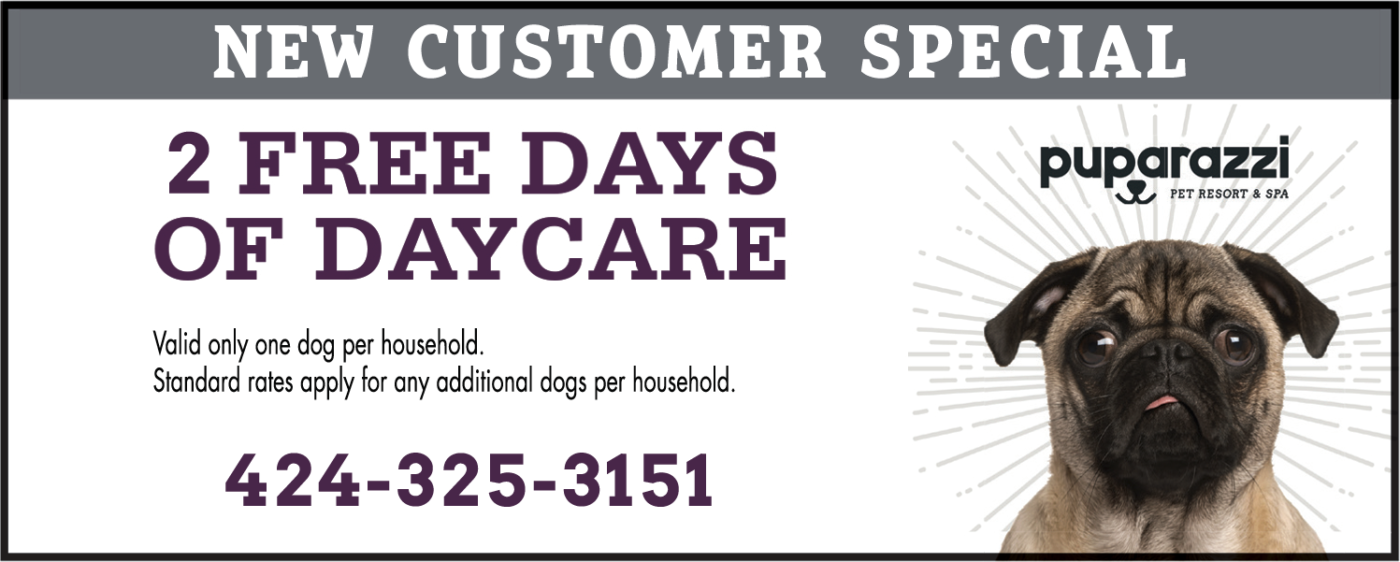 Puparazzi LA is a premier dog daycare in Los Angeles offering dog boarding, dog training, dog hiking, dog grooming and more. Our dog resort offers a selection of packages to choose from, so pet parents have options according to their needs, length of stay, and number of dogs.
Now open to the public, Puparazzi LA aims to herald itself among leading dog daycare facility. Pups receive five-star treatment with dog spa services dedicated to ensuring pets feel and look their best, providing selections of master, luxe, and premium suites for pets' ultimate comfort and privacy.
The Best Dog Daycare in Los Angeles
When pets can't be home because owners are away, new environments and dog daycares can cause stress or anxiety. Puparazzi relieves these factors by providing the best dog hotel in Los Angeles. For some dogs, socializing can be scary. The professional, knowledgeable staff at Puparazzi LA always keep a caring, watchful eye on pups, even while they're sleeping in our daycare.
When it comes to privacy, Puparazzi LA understands the importance of ensuring the safety and comfort of dogs. Pups have their own quarters, fresh linen, and private cabinets for storing personal items like their favorite toys. Pup parents can relax with peace of mind thanks to Puppy Peek cams that offer live webcam streaming. Video comes with added security features that include private access with a personal login.
Los Angeles' Dog Daycare
Puparazzi provides full-day, half-day, and hourly stays for affordable dog daycare services. All dogs will receive full attention from care attendants and participate in a variety of activities, from hiking and beach days to group play sessions and walks.
This LA dog daycare also understands the importance of socialization opportunities, and that not all dogs are the same. Pup parents can choose from dog daycare play packages and on-on-one packages. Puparazzi sets the bar for the best doggy daycare in Los Angeles. Day play includes an hour-long group play session, and one-on-one packages come complete with snuggles, cuddles, and playtime, plus a 30-minute walk.
Cage-Free Suites
There was a time when Los Angeles dog boarding meant owners dropped their beloved pet babies off to a facility that kept their pets isolated in an unfamiliar environment. We believes dog daycares should be a pleasurable experience for both dog and parent. Puparazzi caters to a cage-free canine environment, making this a daycare to remember. Pup parents can watch their dogs snoozing, ensuring open access to their dogs' sleeping quarters and safety with cozy bedding and personal care.
The spacious, clean, suites are the perfect accommodations for cage free dog daycare in Los Angeles because at Puparazzi, dogs get the star treatment. It's all about the details. At this Los Angeles dog hotel, every suite is inspired by some of Hollywood's biggest names, and suites are allotted according to the dog's temperament and needs.
Puparazzi rolls out the carpet for their clients. Dogs can enjoy extended pampering or a quick staycation while owners are away. Everything dog owners want for the best dog daycare in LA.
Visit Our Dog Daycare Resort
Puparazzi LA is proud to provide lavish cage-free services to dog owners in Los Angeles and throughout California.
Cities our dog services have provided comfort to include Santa Monica, Hollywood, Culver City, Marina del Rey, Beverly Hills, Venice, West Los Angeles. among many others in need of Los Angeles dog daycare.
Puparazzi LA is happy to enrich and elevate the safety and comfort of your pup's home away from home experience.
Phone: 424-325-3151
Email: [email protected]
Puparazzi LA – 1933 Pontius Ave, Los Angeles, CA 90025